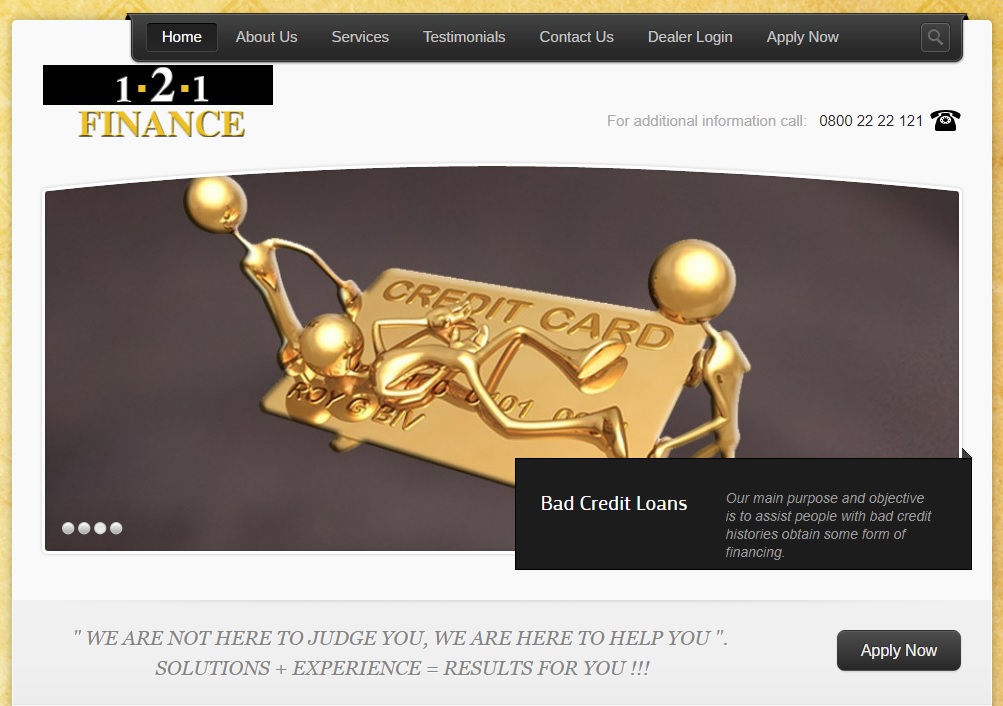 121 Finance Ltd Loan Solutions
Need a lender that can help you get the best bad credit loans? Look no further because 121 Finance is here!
For people with bad credit, it is tricky to find a bad credit loan that is customized to their needs. Some bad credit loans come with high interest rates, which may bring some down to further debt. However, 121 Finance does not do that as they assess every application with a unique lending criteria. The loans they offer will be adjusted to fit the client's situation to make it affordable.
Here are the services offered by 121 Finance:
– Debt consolidation loans
– Holiday loans
– Wedding loans
– Funeral loans
– Unsecured loans
Want to know more about 121 Finance and its services? Here are the things you need to learn about the financial service provider and why they should be trusted with your financial needs.
121 Finance started in April 2000 and aimed to help average Kiwis get financial services without having to worry about the strict requirements of banks and large financial institutions. The company will make it easier for Kiwis to get a loan even if banks decline the application. They promise that customer satisfaction is guaranteed when you reach out to them. They also promise that the loans are perfect for your requirements.
What's the details on their loans?
The loans offered by 121 Finance are very flexible since it looks into the client's requirements and situation. When it comes to their bad credit loans, any client with bad or poor credit can avail it. This includes clients who were previously declined by banks, former bankrupted clients and self-employed. Those with loan arrears or poor payment history can also apply, as well as beneficiaries with IRD or WINZ income.
What are the requirements?
Those interested in applying with 121 Finance must be 18 years old and up. They must also be a NZ resident and have a valid address. They must also present their bank statement, payslips and a valid email address and phone number. Depending on the loan you applied for, a guarantee or security is required. The guarantee must be owned by you or by your joint applicant. Other documents may be requested if there are clarifications needed.
How can I apply? How fast is it?
Applying for any of the loans offered by 121 Finance is very easy. Clients simply need to apply online and fill up the form. The form will only take a few minutes to complete. They will also be asked to upload their requirements and have it sent. Those who wish to complete the form on print can fax their application form through fax or by sending the form to the lender's address.
Once the company receives the application, they will review the application carefully. They will not focus on the borrower's credit history and instead, look if they will be able to pay the loans. If the borrower meets all the requirements, they will receive the loan contract which they need to sign. When it is received by the company, the money will be transferred to their account immediately. The minimum loan amount starts at $1,000.
How about returning clients?
Returning clients are welcome to reapply with 121 Finance. They must ensure that their previous loans have been paid off before reapplying. The lender will assess the client's history and the loan to determine if they will increase the loan amount or approve it.
Repayments are adjustable depending on the client's requirements. It can be done weekly, fortnightly or monthly, with its amount computed during the application. Early repayments are allowed but are subjected to fees. For those who will find hardships during their loan term, they can approach the company to reevaluate their loans and adjust the fee. If not, late fees and extra charges will be added.
Interested to loan from 121 Finance? If you are, you can check out their main office every Mondays to Thursdays from 8:30 am to 5:00 pm and every Fridays from 8:30 am to 4:45pm. You can also send in a contact form from the website or an e-mail. A hotline is also available for those who need an immediate answer to their inquiries.
If you have a bad or poor credit history, do not be disheartened immediately if you need a loan. 121 Finance is here to help and they know how difficult it is for you to get a loan. Contact them today and find out how their bad credit loans work.