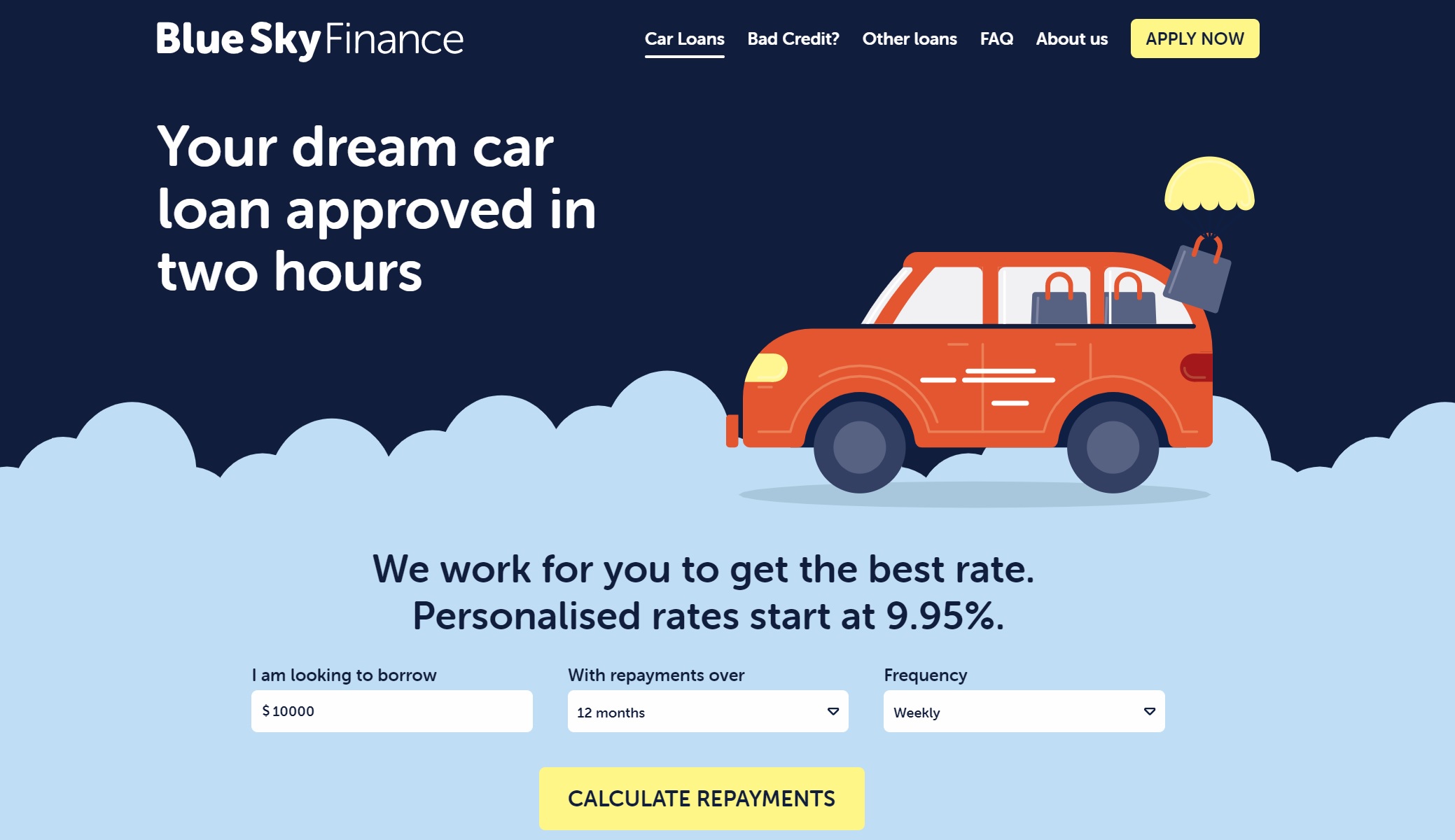 Financial Assistance no matter what your credit status
Are you looking for a financial broker who can help you get loans no matter what financial status you may have? If that is a yes, us here at Blue Sky Financial can help out.
Every New Zealander has different needs when it comes to loans and use it in various purposes. Here in Blue Sky Financial, we will help you get the right financial solution based on your status. We only need to know your income, expenses and your residency status and you are all set.
Here are the list of loan products and services we offer to our clientele:
– debt consolidation loans
– personal loans
– business loans
– and vehicle loans
We also offer marine finance loans, wedding loans, short term and long term loans.
Aside from making the loan applications more simple, we also help all kinds of clients. From students, beneficiaries, immigrants, to those with bad credit, we will help you get loans quickly and easily.
Efficient Customer Service
When you call us to inquire about our specialist broker service, we will take note of your details and determine which loan solution you need. If there is something you do not understand about our service, we will be happy to help you out.
We are open 6 days a week to cater to our client's schedules. We will also respond your request within 2 to 24 hours. Our friendly agents are always on standby to wait for any calls or inquiries.
Once you avail our service, we will handle all your request professionally until the end of your contract with us.
Great Interest Rates and Terms
Many citizens in Christchurch love the services Blue Sky Financial offers because the lender is very flexible. Approved borrowers can loan up to 60 months and early payments are ok. Payments can also be done every week or monthly, depending on your preference.
If borrowers have problems paying off their dues, the company is open to renegotiating the terms. We can lower the repayments to make it more affordable, as well as extend the payment date.  Extended terms are also available if the borrowers wish to avail it. Penalties are also affordable to ensure that borrowers won't have problems paying them. 
Our interest rates are computed based on the current market. We will inform you if our interest rates will change in advance so you can prepare.
As security, the purchased item you got through the loan will serve as the collateral until you paid the loan.
Applying for any of Blue Sky Financial's loan services can be done in a few simple steps depending on where you reach us. You can call us through our official hotline and you will guided through the entire application process. You can also go through the applications through our official website.
If you do the application process through our website, you can pick between two options: express or full. In express, you only need to fill up a short form so we can call back to process your application. It will only take 1 to 2 minutes to complete. In full, you will be asked to put every detail we will need to process your application.
We will strive to reply to your applications as fast as 2 hours or within the day so you can get your money easily.
Existing clients can also reach us through our contact details to get their credit extended or wish to reapply for a new loan. We won't request for new documents when we get reapplications, and the amount that you can borrow will be increased.
What Do You Need to Apply
To apply for our services, you simply have to be 18 years old and have a drivers license and proof of residency. You can also send us an accounting of your income and expenditure so we know how we can help you further. When we have assessed your application, you can borrow as much as $1500 and up.
If you have a poor credit history, no need to fret. We will still accept your applications. We will check your income and expenditure to see if you can pay your loans. If you can prove to us you can, then we will grant the loan you are requesting with no questions asked!
If you are in need of funds, you should approach a lender that you can trust. With Blue Sky Financial, you can be assured that your loan is tailored to your financial needs and get it at an affordable rate. No matter how short or long your loan will be, no matter how small or huge it is, we are here to help you out.
So pick up the phone or check our website to apply now.