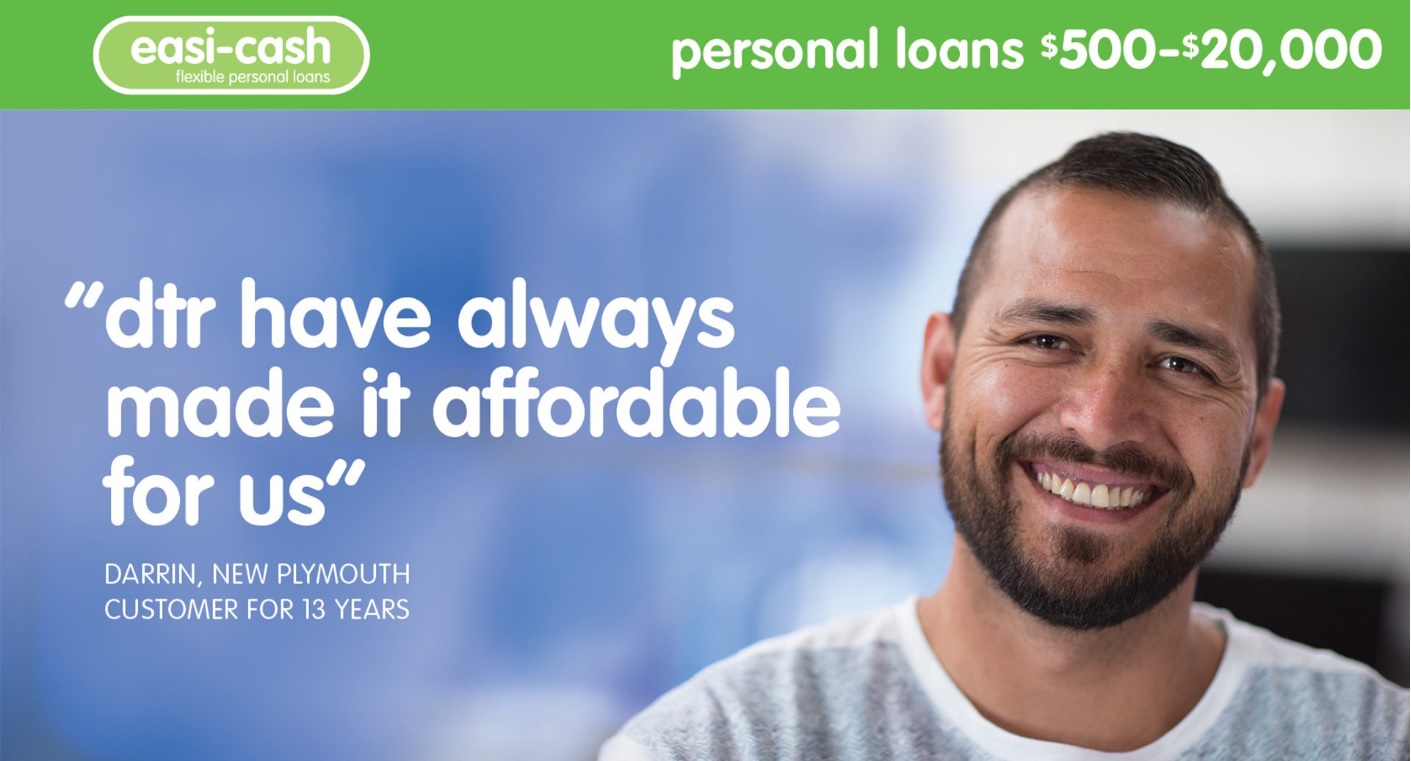 DTR Loans offer people looking for quick cash without going through the long processes and waiting periods required by banks a great alternative. We will give you a loan even if your credit history score is wanting and, best of all, you get the money in record time.
Application itself will take you no more than 10 minutes when you do it online. In just a few hours you will have the money in your account if your application is approved. All you need to be is a New Zealand resident above the age of 18 with a stable income.
DTR offers Kiwis quick access to cash to purchase items that will ordinarily put too much of a strain on their monthly budget. You might need to refurbish your home or buy a new refrigerator, or even have a relative who needs to undergo a pricey medical procedure. We can lend you the money you need to get these things whether or not you have an asset to offer as security.
You can apply for a loan of between $500 and $50,000 depending on what your need is and get it in two hours. You can then repay it in comfortable monthly instalments over a period of between 12 and 48 months.
We are a flexible lender and do our best to accommodate the unique circumstances of each individual customer.
Applying for a DTR loan will take no more than 10 minutes. This is one of the main reasons customers come to us instead of going to mainstream lenders.
All you need is to be a permanent resident of New Zealand above 18 years of age with:
Bank statements showing steady monthly income
Work payslips
Security for the loan- either a vehicle logbook or property ownership document
Proof of residential address
You won't have to deal with all the red tape and long waiting periods ordinary banks impose on borrowers.
You can apply for a loan even with bad credit history provided you can give us proof of a steady income. If you send us an application online with the above documentation, we can lend you between $500 and $20,000 at a very competitive rate. 
You can reach us whenever you want, from wherever you are, if you need any information or assistance. We take a personal interest in each of our customers; to us you are more than just another number.You can always find us on phone, email or the chat on our website.
If you visit the DTR website you will find an online store where you can purchase a variety of products on credit with no initial deposit. It is a feature known as easi-own. You can buy anything from computers and computer accessories to home appliances to furniture to fitness equipment.
Once you find the item you wish to purchase you can view its features and apply to buy it online. If it is a large item, which is a bit complex to install, we will deliver it and do the installation for you. Delivery is done within five days for most items
The flexibility of DTR loan products is extended to easi-own. If you no longer want or need an item which you had purchased and had began making payments for, you can return it. Your repayments will be suspended for up to a year. if the item becomes faulty while you're still paying for it, don't worry. We will replace it for you as long as it is within our terms and conditions.