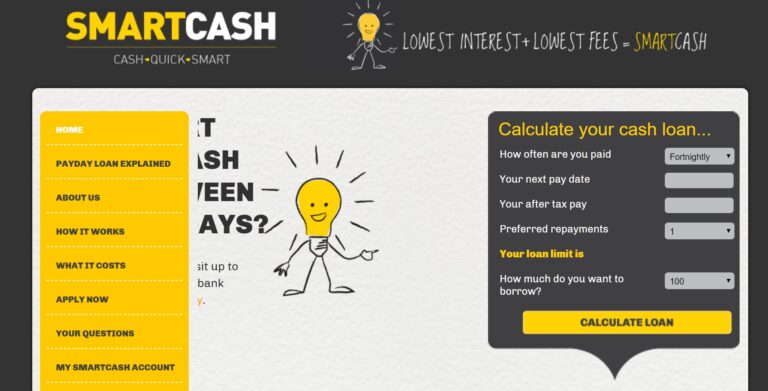 If you need payday loans with low interest rates, SMART CASH NZ is the company to look into.
Applying for a loan can be tricky, especially for those with bad or poor credit. SMART CASH NZ knows this and offer their services to assist these people in need. All it takes is for clients to call the company and they will guide you to the entire process.
Here is the list of loan products and services SMART CASH NZ offers to their clients:
– Cash loans
What are the other reasons why people should consider SMART CASH NZ?
Efficient Customer Service
When you contact SMART CASH NZ, clients can be assured that the company will do their best to make borrowing simple. The company's team has been working in the industry for the past 25 years. If you have problems, they can explain it without worries.
The company's offices are open 5 days a week and can be reached through phone or email. Once the company receive a request, a reply can be expected within an hour to 24 hours. Friendly agents are on standby to receive any inquiries and review applications. 
Clients can be assured that they will not have problems with the company's agents. They are trained to treat clients professionally from the time clients sign up to the end of the loan term. If clients have complaints, they can reach out to the company's Internal Complaints department. Resolution can be reached within 10 working days, but it can be longer depending on the problem.
Low Interest Rates & Flexible Terms
SMART CASH NZ is known in Auckland for offering the lowest interest rates on payday loans in the country. The daily interest rate is at 0.99%, which is perfect for their 90-day loans. Approved borrowers can borrow up to 20% of what you earn over your loan period.
Repayment can be done in instalments, or in one payment. Usually, direct debit from the borrower's bank account is done for repayments. But, manual payments or wage deductions can also be requested.
If borrowers have problems paying their loans, they are advised to contact the company in advance. Once they are aware of the situation, the company can either stop or renegotiate payments. A rescheduling fee of $20 is charged if borrowers request it.
But, if the reason why borrowers cannot pay are due to unforeseen circumstances, borrowers can ask for their loans to be amended. If repayment is missed, a missed payment of $30 is added to the bill.
Loans can be cancelled within 5 days since it is approved. Borrowers have to notify the company and pay all the fees attached to cancellation.
To apply for any of SMART CASH NZ's loan services, prospect borrowers can go to their website. Borrowers have to fill up the application form. When the request is received, the company will send a loan document and request the borrower's files. The officers will review the documents and advice the client if their request is approved through email. Additional documents may be requested depending on the files sent to the company.
Once your loan is approved, SMART CASH NZ will deposit your loan to your bank account. If you want it done on the same day, borrowers will be charged $10.
Existing clients who wish to apply for new loans can simply go to their SMART CASH NZ account to reapply. The system already has record of their files and it will only take 15 minutes to get approved. If details have changed, clients are advised to update their account and the results will be emailed in 60 minutes.
When you apply for a loan, it is important that the whole process is easy and pain-free. With SMART CASH NZ, you can be assured that your application will be reviewed as fast as possible so you can get the money you need ASAP! So, check the site now to learn more about SMART CASH NZ!