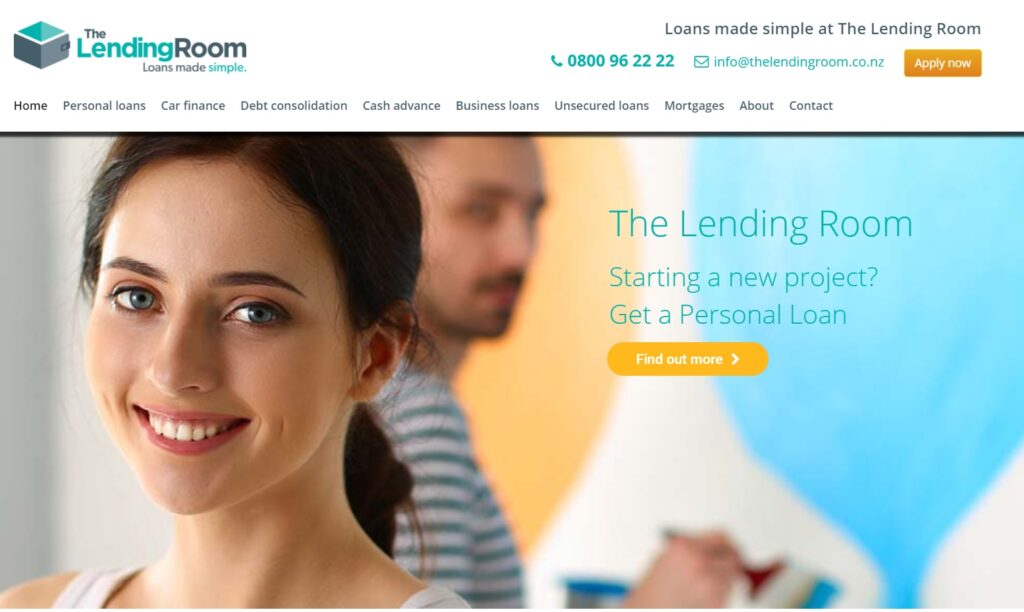 The Lending Room makes it very easy for any New Zealand resident in need of a financial boost to get short-term credit. Through their website you can complete your application through an easy five-step process that takes just a few minutes. The Lending Room itself is not a financial services provider, but they work to help link anyone in need of financing to a suitable lender.
They work in partnership with a number of authorised, fully accredited lenders in New Zealand. Instead of you having to rummage through the websites of an array of credit providers, you only need to login to the Lending Room website, specify the kind of loan you want and how much you want. After you select the repayment period you're comfortable with using the slider on the site, they will do the rest.
Cash advance
Ever found yourself in a jam which the funds left in your bank account could not sort out? A cash advance from The Lending Room can bail you out of unforeseen emergencies such as medical procedures not covered by your medical policy. You could also use a cash advance to undertake those whole scale home repairs you've been thinking about.
The sum you can get as a cash advance depends on your level of income but you can get up to $3,000 to sort out those pressing needs. You will have up to six months to repay the amount, and the beauty is that the repayments are tailored around your needs.
Unsecured loans
You can get between $1,000 and $20,000 without having to provide security for the loan. The amount you can borrow will be determined by your ability to make the repayments, which will be assessed by The Lending Room's expert analysts. They will also see to it that you get a favourable interest rate depending on the information you supply about your current financial status and your credit history.
Bad credit loans
If you have defaulted with Baycorp or have a bad credit history, you can still get a bad credit loan with The Lending Room. Their loan experts will take a look at your income and other factors to reach a decision on your loan approval.
Car loans and Mortgages
These are the kinds of secured loans The Lending Room offers New Zealanders. The asset being purchased acts as the security for the loan, ensuring that you get a more favourable interest rate than if you were getting the asset through an unsecured loan. As with all other Lending Room products, you will get a flexible repayment schedule that works around your individual financial situation.
Business loans
If you have great expansion ideas for your business but don't have the required capital, you can approach The Lending Room. They will also listen to you if you have suppliers to pay and have your cash tied up in outstanding payments. To get a new business loan you will need to provide collateral in the form of a vehicle logbook or the title deed of a property. 
Debt consolidation
This service allows Kiwis to combine all the separate repayments they have for different loans or credit cards into a single, more manageable repayment. This will make your budgeting simpler and could save you cash over time. You also get to eliminate the very real possibility of missing a repayment and tarnishing your credit record.
Simplicity: What would have been a long application process requiring document after document has been crystallised into just a few easy steps. You don't even have to leave the comfort of your home to apply for a Lending Room loan.
Bad credit: Even if you have had credit problems in the past, you can still get a loan from The Lending Room.
Service: You will have a dedicated advisor to answer all questions you may have about your loan. Furthermore, you will have everything customised to suit your situation from the repayment schedule to the loan fees. 
Easy repayments: A direct debit will be set up on your account after you have received the loan. This will debit your account automatically every week, two weeks or month. You therefore don't have to worry about transferring money for your loan.
The Lending Room can take over a facility you have with another other bank if you are being charged exorbitant interest rates. After taking over the loan they will work on the interest rate and a flexible repayment schedule that is more suited to your circumstances.